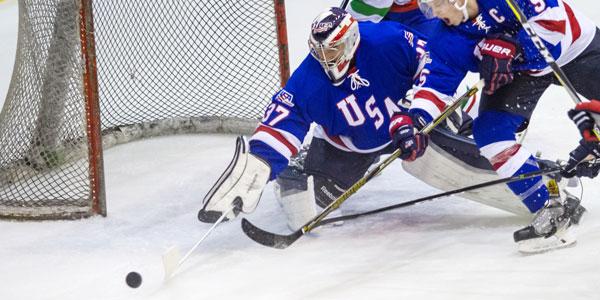 Self-Confidence in Hockey
If you were to rate your confidence in hockey from 1-10, what score would you give yourself?
Imagine how much different you would feel, think, act, and perform if you rated yourself one or two points higher.
If you rated your confidence a 6-7, you would be somewhat confident heading into a game. You may feel you will be on top of your game, but you might still experience some doubts in the locker room and up until the puck drops.
Getting into the game's flow may take a couple of shifts, but, generally speaking, you feel you will have a good game. 
Now, imagine if you rated yourself two points higher, maybe 8 or 9? Everything about how you thought, walked, talked, and acted would be different.
Before you even leave your house, you would feel positive and prepared. In the locker room, you would feel energized and psyched up. You would talk to your teammates in a positive tone.
You know you will impact the game when you hit the ice for warm-up. As you warm up, you will feel strong and confident, as if nothing could stop you. By the time the first period started, you would be totally in game mode.
You would seek to impose your will on the opposing team dictating the tempo on the ice. You would react quickly without thought, anticipating opportunities as they unfold. 
This is what is meant by high confidence. High confidence is the difference between THINKING you will perform well and KNOWING you will perform well.
3 Characteristics of High Confidence:
1. Highly confident players talk themselves up – Instead of tuning into doubts, they utilize positive self-talk to shape their mindset.
2. Highly confident players leave no stone unturned – They prepare physically, technically, tactically, and mentally.
3. Highly confident players are focused – These players are focused on how they will play instead of stargazing at their opponents.
A great example of high confidence is the 2022 USA Women's Olympic Hockey team. Head coach Joel Johnson, his coaching staff, and the entire women's team sensed something different as they headed into their third preliminary game against Switzerland.
The team was highly confident before they even arrived at the stadium. The result was a dominant 8-0 rout over the Swiss.
The USA fired on all cylinders in all phases of the game. Team USA finished the game with an incredible 66 shots, with the Swiss managing only 12 shots on goal.
After the game, Johnson touted the team's high confidence as the difference-maker:
JOHNSON: "This was one of those games, where before the game, (we) just kind of looked at each other and said, 'I think we're ready. I think we're ready to go.' You just kind of get that sense over the course of the day for whatever reason. It had nothing to do with the opponent. It had everything to do with us." 
When you are highly confident, you trust your mental and physical skills, focus on your game, and know you have what it takes to be successful.
Improving Confidence in Hockey:
Think, talk, walk, and act confidently–look the feel the part…
Work on three positive self-talk statement you can use before games, such as "I've prepared hard for this game, trust my skills." Memorize these and use to help give you a confidence lift.
Speak with your teammates confidently with your head up and maintain eye contact. Walk with an energetic pace. Maintain a confident posture with your head up and shoulders back.
---
Related Articles on Hockey Mental Game:
*Subscribe to The Sports Psychology Podcast on iTunes
*Subscribe to The Sports Psychology Podcast on Spotify
---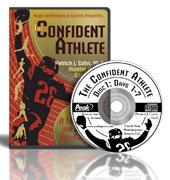 Some athletes are naturally blessed with confidence from an early age, while others struggle with it. Stable self-confidence will not only help you perform your best every day in competition, it will improve other aspects of life such as school, work, and relationships!
"The Confident Athlete" audio and workbook program is a ground-breaking system to teach you how to think like a champion and have ultimate self-confidence every time you step on the playing field, court, track, or course. Includes 14 days of confidence fueling exercises and a simple to follow workbook.
Below, you can order the digital download version or have the program shipped to you.