Body Image for Girls in Sports
Kate T. Parker, a professional photographer and New York Times bestselling author of The Heart of a Boy and Strong is the New Pretty, says that in the youth sports world, girls grapple with body image challenges.
In an interview with Ultimate Sports Parent Radio, the ironman and former collegiate soccer player said that the photographs she sees of girls in sports rarely look like her daughters when they play soccer. 
"I noticed when I started taking pictures, I'd look around, most of the images of little girls, their hair was done and they were smiling. They didn't look like my girls. I wanted to capture images of what they look like, muddy, with crazy outfits, hair not done." She worries that the pictures of girls in sports with their hair and face looking perfect create the wrong impression for girls.
Her message for sports parents and girls in sports: Girls are beautiful when they're not all done up. They're also beautiful if they develop big muscles. 
"I remember growing up and being frustrated that my jeans didn't fit right; I had soccer legs, my jeans fit my thighs, but gapped at the waist. I was frustrated and embarrassed by that."
As she got older, she realized that if her legs weren't so muscular, she couldn't achieve the goals she wanted to achieve–becoming an ironman, for instance.
"It's important for girls to recognize that your body looks a certain way because of what you're demanding of it," she tells girls in sports. "You shouldn't be embarrassed." Feeling proud of their bodies helps girls feel confident in sports–and life.
Parents can help boost confidence in girls in sports by refraining from commenting on their bodies in negative ways. Moms should avoid talking about their own bodies in negative ways. They shouldn't talk about how they need to lose weight or diet.
"If you have a positive body image of yourself and are healthy, it trickles down to your kids," Parker says.
The body image issue for girls is "pretty pervasive," she says. At some point, most girls grapple with concerns about what their bodies look like, especially if they're in gymnastics or swimming.
"Parents have to be careful about what they say. All you can do is feed their brains as much positivity as you can," says Parker.
Parker tells her daughters every day that they're beautiful, especially when they wake up in the morning and haven't brushed their hair. "Beauty is who they are instead of what's on the outside," she says.
Listen to the Ultimate Sports Parent Podcast:
---
Help Your Young Athletes Succeed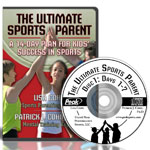 In The Ultimate Sports Parent 14-day CD program, you and your young athlete will learn how to cultivate confidence, focus, and composure in sports! Improve your sports parenting skills with this program.
It's difficult for sports parents to watch their kids under-perform in sports and lose self-esteem due to fear, doubt and tentativeness. It's hard to stand idle and watch.
The
solutions are not obvious. However, you, as a parent, can learn how to
respond to your athletes' fears, doubts, and frustrations. You can develop happy, successful kids who are "mentally tough" in sports – and life!
A child or teen athlete may possess all the talent in the world. But if he can't "get his head in the game" and realize his potential, his performance will suffer and he will be unhappy.
---
What are Parents and Coaches saying?
"The Ultimate Sports Parent program is well designed to help parents and athletes come to terms with developing well rounded student athletes. This workbook will help give athletes and parents the competitive edge."
~Mike Maveus, athlete & youth sports coach
"I just listened to The Ultimate Sports Parent CD program on a drive back from North Carolina. Every parent should be required to listen to it! I thought it was great." Thank you."
~Rita, Sports Parent
"Dr. Patrick Cohn and Lisa Cohn are to be congratulated! Together, they offer a wealth of knowledge, information, and practical mental tools for sports parents on the substantial "mental game" challenges and pressures facing today's young athletes."
~Marc D. Anderson, LCSW, MGCP, Mental Game Coach