Athletes with a growth mindset see hard work as the primary contributor to success.
Have you ever thought about what type of athletic mindset you have and how it impacts your performance?
Athletes can have either a growth or a fixed mindset…
A fixed mindset suggests that talent is the primary determinant of success or positive results.
Look back throughout your years in hockey. Have you ever played with someone who seemed naturally talented? 
Those players appeared to have a head start due to their talents. They played effortlessly, had blazing speed, and scored at will from an early age. 
Often, "gifted" players are not the best players in practice. These types of players typically have a fixed mindset. They mostly rely on their talent.
Players who focus on their talent, not their work ethic, watch harder-working athletes narrow the performance gap. 
Eventually, hard-working players outplay their seemingly "more talented" counterparts who have neglected to do the work.
As a result, many of these "naturally-gifted" athletes start fading into the background and quit hockey before high school.
The Fixed Mindset
Athletes who have a fixed mindset believe talent alone leads to success.
These players tend to:
Avoid challenges because they fear failure.
Be lax in practice and overlook developing smaller aspects of their game.
Do minimal work to stay in shape.
Neglect mental training because they believe elite players are born mentally strong.
Have difficulty handling failure.
Make excuses and blame others for poor play.
The Growth Mindset
Athletes with a growth mindset believe hard work is the primary determinant of success.
These players tend to:
Seek out challenges to stretch their abilities.
Have a practice plan and put in maximum effort during training sessions.
Go the extra mile to maximize conditioning and technical skills.
Prioritize mental training to gain an edge over their competition.
Use losses and mistakes as feedback. 
Take personal responsibility for their training and performance.
The good news is that you choose your mindset, which affects every thought and action you take.
Washington Capitals 21-year-old forward Aliaksei Protas earned a spot on the roster after a strong training camp and preseason. In his second NHL year, Protas is expected to start at left wing on the second line.
Protas has a growth mindset and challenges himself every day.
PROTAS: "I worked pretty much whole summer to make my dream come true. I am close to it. Now I need to work even more to prove I deserve to be here."
After making the team last year, Protas worked even harder this year to earn a spot on the second line. Protas continues to set new targets and works hard until he accomplishes his objectives. Protas knows he has more to give and more to achieve.
To reach the next level, you should consider your mental game.
Make it a habit to consistently set goals and performance targets. When you consistently set new objectives, you continually stretch your athletic capacity.
When you can reach your small goals, confidence grows as you improve. We help hockey players set the right goals and how to go after their goals. Contact us for details.
---
Related Articles on Hockey Mental Game:
*Subscribe to The Sports Psychology Podcast on iTunes
*Subscribe to The Sports Psychology Podcast on Spotify
---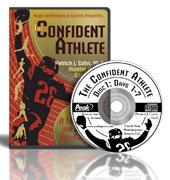 Some athletes are naturally blessed with confidence from an early age, while others struggle with it. Stable self-confidence will not only help you perform your best every day in competition, it will improve other aspects of life such as school, work, and relationships!
"The Confident Athlete" audio and workbook program is a ground-breaking system to teach you how to think like a champion and have ultimate self-confidence every time you step on the playing field, court, track, or course. Includes 14 days of confidence fueling exercises and a simple to follow workbook.
Below, you can order the digital download version or have the program shipped to you.