Keep Confidence Up, Even in a Pandemic
When kids' sports schedules are interrupted or stopped altogether–which is true for many young athletes right now, due to the pandemic–they can feel anxious.
Injuries, illnesses, inclement weather, facility shutdowns and vacations are some of the other circumstances that can disrupt athletes' training or games.
Uncontrollable circumstances such as injuries or pandemics, not only create anxiety in kids, they hurt their confidence.
For example, if your young athlete experienced a second-degree ankle sprain, she may have many questions such as:
When can I resume training?
Will my season be over?
Am I going to fall behind my teammates who are still training?
Will a couple of weeks off affect my strength and conditioning?
Will my skills decline? Will my timing be off?
How will I be able to catch up to my teammates and how long will it take before I can compete?
When kids focus on the things they can't do because of an uncontrollable circumstance, they may feel lost and helpless. But sports kids can still work on staying physically and mentally active.
The COVID-19 crisis has turned the world upside down and has left athletes to face many unknowns. It has disrupted training and competing for nearly every athlete in the world.
The Olympics were pushed back, international competitions were halted, professional sports seasons were postponed and many college, high school and youth sports seasons were cancelled.
Some young athletes feel trapped in their homes without their daily training regimen, while other athletes have found creative ways to train that are exciting and empowering.
For example, 25-year-old Adam Brady, center for the American Hockey League's Stockton Heat, had his season interrupted by the pandemic. Even though Brady was not able to scrimmage with his teammates on the ice, Brady stayed active by turning to new methods that he may never have considered before.
"It's given me time to do more research with nutrition and get into yoga, a lot of mobility and stretching," he said.
We have learned from the pandemic that adversity can strike at any moment, disrupting athletics. No matter what the circumstances, sports kids can follow Brady's lead and find creative ways to train.
When athletes focus on what they can do or what they can control, they gain a sense of empowerment, build confidence and become more well-rounded athletes.
How Kids Can Train their Mind and Body:
Remember, there is always something kids can do to improve their games when they are not practicing or playing. The lessons kids may learn during the pandemic can be carried over to other obstacles that may prevent them from participating in sports.
If young athletes can't run, they can learn relaxation techniques.
If they are injured, they can visualize performing in a competition.
If they are stuck indoors during a snowstorm, they can do weight training.
If they can't practice, they can work on flexibility.
This is also a good time to look into mental training, even when sports kids are not practicing or playing. Encourage young athletes to be creative with ways to improve their games even when they're not practicing. It will pay off when they face other forms of adversity that prevent them from participating in athletics.
Help your young athletes make the most of their sports experience!
---
Help Your Young Athletes Succeed
In The Ultimate Sports Parent 14-day CD program, you and your young athlete will learn how to cultivate confidence, focus, and composure in sports! Improve your sports parenting skills with this program.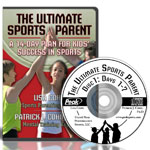 It's difficult for sports parents to watch their kids under-perform in sports and lose self-esteem due to fear, doubt and tentativeness. It's hard to stand idle and watch.
The
solutions are not obvious. However, you, as a parent, can learn how to
respond to your athletes' fears, doubts, and frustrations. You can develop happy, successful kids who are "mentally tough" in sports – and life!
A child or teen athlete may possess all the talent in the world. But if he can't "get his head in the game" and realize his potential, his performance will suffer and he will be unhappy.
---
What are Parents and Coaches saying?
"The Ultimate Sports Parent program is well designed to help parents and athletes come to terms with developing well rounded student athletes. This workbook will help give athletes and parents the competitive edge."
~Mike Maveus, athlete & youth sports coach
"I just listened to The Ultimate Sports Parent CD program on a drive back from North Carolina. Every parent should be required to listen to it! I thought it was great." Thank you."
~Rita, Sports Parent
"Dr. Patrick Cohn and Lisa Cohn are to be congratulated! Together, they offer a wealth of knowledge, information, and practical mental tools for sports parents on the substantial "mental game" challenges and pressures facing today's young athletes."
~Marc D. Anderson, LCSW, MGCP, Mental Game Coach