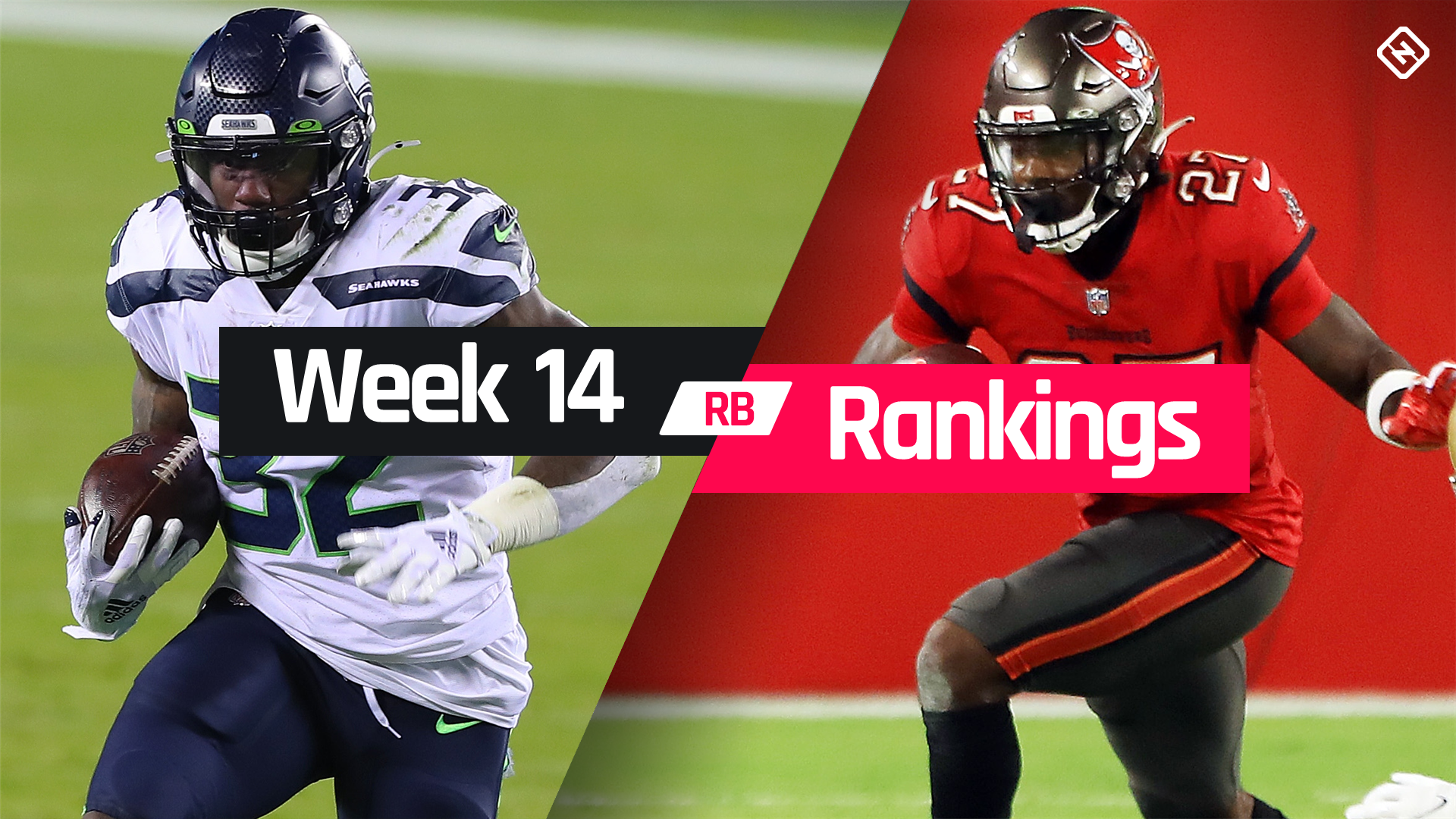 Rank
Player
1
Aaron Jones, GB @ DET
2
Derrick Henry, TEN @ JAX
3
Christian McCaffrey, CAR vs. DEN. McCaffrey should have a chance to play in Week 14 and if he does, he'll be a top-five play against a Broncos defense that has been middle-of-the-pack against RBs.
4
James Robinson, JAX vs. TEN
5
David Montgomery, CHI vs. HOU
6
Alvin Kamara, NO @ PHI
7
Dalvin Cook, MIN @ TB
8
Chris Carson, SEA vs. NYJ
9
Austin Ekeler, LAC vs. ATL
10
Ezekiel Elliott, DAL @ CIN
11
Jonathan Taylor, IND @ LV
12
Antonio Gibson, WAS @ SF
13
Raheem Mostert, SF vs. WAS
14
James Conner, PIT @ BUF. Conner missed both Weeks 12 and 13 while on the COVID list but with another week to get healthy, he should have a chance to come back. If he suits up against the Bills, he should be a strong RB2, as the Bills have allowed the ninth-most fantasy points to RBs so far this season.
15
Melvin Gordon, DEN @ CAR
16
Myles Gaskin, MIA vs. KC
17
Nick Chubb, CLE vs. BAL
18
D'Andre Swift, DET vs. GB. Swift has missed the Lions' past three games with a concussion and an illness. After getting Week 13 off to get better, Swift should have a chance to play and resume his duties as Detroit's lead back. The Packers have allowed the third-most fantasy points to RBs this season, so this figures to be a great matchup for Swift to exploit.
19
Ronald Jones II, TB vs. MIN
20
Clyde Edwards-Helaire, KC @ MIA. If you survived last week after playing Edwards-Helaire only to see him stand on the sidelines sick as an emergency option for the Chiefs, congratulations. He should have plenty of time to get back on his feet ahead of Sunday's game against the Dolphins, so he will have a chance to be an RB2 against a Dolphins defense that has been mediocre against the run lately.
21
Giovani Bernard, CIN vs. DAL. As long as Joe Mixon is out — and he could miss the rest of the season — Bernard will be the lead back for the Bengals. The Cowboys have one of the worst run defenses in the NFL and have allowed the second-most rushing yards to RBs on the season (1,438 before their game against the Ravens). Bernard could put up his best game of the season as a result.
22
Josh Jacobs, LV vs. IND. Jacobs missed the Raiders' last-second victory over the Jets as a result of an ankle injury. He was declared out shortly ahead of the game, but the injury isn't expected to sideline him long-term. He should return in Week 14, but the Colts have been above-average against RBs this season, so it's hard to trust him (or any RB not named Derrick Henry against the Colts, for that matter).
23
Kenyan Drake, ARI @ NYG
24
Wayne Gallman, NYG vs. ARI. Gallman's five-game scoring streak came to an end against the Seahawks. Instead, he totaled a career-high 135 rushing yards and further established himself as the temporary lead back for the Giants. Gallman should continue to see a lot of volume against the Cardinals, a team that has allowed the 12th-most fantasy points to RBs this year.
25
Todd Gurley, ATL @ LAC. Gurley is nursing a knee injury and played a season-low 22 snaps last week. That came after playing just 23 snaps the week before. Gurley still has TD upside, but the Falcons are easing up on him with the team out of the playoff race and Gurley getting set to hit free agency again. The Chargers have just been average against the run, but the touches aren't there for Gurley right now.
26
Kareem Hunt, CLE vs. BAL
27
Damien Harris, NE @ LAR
28
David Johnson, HOU @ CHI. The good news: Johnson led the Texans with 10 carries against the Colts and generated 44 yards and a TD. The bad news: Duke Johnson appears to have earned the role as the primary receiving back and saw six targets during the game. David will still get volume in the ground game, but without passing work, his ceiling is lower against good run defenses like that of the Bears, especially in PPR formats.
29
Miles Sanders, PHI vs. NO. Much like the rest of the Eagles offense, Sanders has struggled this year and only managed 31 yards on 10 carries against a weak Packers run defense. Against an elite Saints defense that hasn't allowed an RB to score since Week 4, things don't figure to get better for him.
30
Cam Akers, LAR vs. NE. Akers is now officially the lead back for the Rams. He had 22 touches against the Cardinals while Darrell Henderson and Malcolm Brown had nine touches combined. Akers will get every opportunity to move the ball against the Patriots, but they have been solid against RBs the last five weeks, allowing just two total TDs and one RB with more than 50 rushing yards. This will be a tough test for Akers, so he's more of a flex option on this deep RB slate.
31
JK Dobbins, BAL @ CLE
32
Phillip Lindsay, DEN @ CAR
33
Ty Johnson, NYJ @ SEA. With Frank Gore (concussion) and La'Mical Perine (ankle) sidelined, Johnson stepped up for the Jets against the Raiders and was able to post a 100-yard game with a TD. The Seahawks will be a tougher test than the Raiders, but they did just get gashed by Wayne Gallman, so perhaps Johnson can fare well for a second consecutive game.
34
Nyheim Hines, IND @ LV. Jonathan Taylor may be the lead back for the Colts now, but there's still room for Hines to produce near the goal-line and as a pass-catcher. Hines is second on the team in both red-zone targets and red-zone rushes, so he could have a chance to score against a Raiders defense that has allowed the fourth-most fantasy points to RBs this season.
35
J.D. McKissic, WAS @ SF
36
Gus Edwards, BAL @ CLE
37
Zack Moss, BUF vs. PIT
38
Leonard Fournette, TB vs. MIN
39
Jamaal Williams, GB @ DET. The Lions have allowed the most fantasy points to RBs this season. That includes a league-high 23 total TDs, which is seven more than the next highest total. Aaron Jones will do the brunt of the damage for Green Bay, but don't count Williams out from finding the end-zone or breaking some big plays during this one.
40
Carlos Hyde, SEA vs. NYJ. Hyde's workload decreases in Carson's second game back from injury, but he still gets consistent action and is always a candidate to vulture some red-zone touches. The Jets defense has been awful in all aspects this year, so Hyde is a worthy flier if you're desperate for help at the RB position.
41
Salvon Ahmed, MIA vs. KC
42
James White, NE @ LAR
43
Kalen Ballage, LAC vs. ATL
44
Darrell Henderson, LAR vs. NE. See Cam Akers.
45
Devin Singletary, BUF vs. PIT
46
Latavius Murray, NO @ PHI
47
Devontae Booker, LV vs. IND. Booker will be a fringe RB2/flex play if Josh Jacobs is out of action, but for now, he's just a handcuff to have around.
48
Mark Ingram, BAL @ CLE
49
Le'Veon Bell, KC @ MIA. Bell was solid filling in for Edward-Helaire on Sunday Night Football, but he'll go back to being a change-of-pace/backup option with CEH likely back in action.
50
Chase Edmonds, ARI @ NYG
51
Adrian Peterson, DET vs. GB. The Packers are weak against the run, so Peterson could vulture a TD, but counting on him to do that isn't a good move.
52
Mike Davis, CAR vs. DEN
53
Benny Snell, PIT @ BUF. Snell would be a top-20 play if James Conner can't return, but if Conner returns as expected, Snell will be a TD vulture again.
54
Duke Johnson, HOU @ CHI. See David Johnson.
55
Jeff Wilson Jr., SF vs. WAS
56
Tony Pollard, DAL @ CIN
57
Jerick McKinnon, SF vs. WAS
58
Jordan Wilkins, IND @ LV
59
Ito Smith, ATL @ LAC. Smith will take some carries away from Todd Gurley, but the Falcons RB room is quickly becoming a frustrating three-way split.
60
Brian Hill, ATL @ LAC. Hill will take some carries away from Todd Gurley, but the Falcons RB room is quickly becoming a frustrating three-way split.
61
Malcolm Brown, LAR vs. NE. See Cam Akers.
62
Kerryon Johnson, DET vs. GB
63
Jordan Howard, PHI vs. NO
64
Boston Scott, PHI vs. NO
65
Joshua Kelley, LAC vs. ATL
66
Samaje Perine, CIN vs. DAL
67
Ameer Abdullah, MIN @ TB
68
Josh Adams, NYJ @ SEA
69
Darrel Williams, KC @ MIA
70
D'Onta Foreman, TEN @ JAX
71
Dion Lewis, NYG vs. ARI
72
Sony Michel, NE @ LAR
73
Jeremy McNichols, TEN @ JAX
74
Royce Freeman, DEN @ CAR
75
Anthony McFarland, PIT @ BUF